The Greenhouse : organic vegatables for sale
"The Marais Girard greenhouse pays tribute to the agricultural past of the farm. A real Maraîchine greenhouse, which integrates beautifully into the architecture of the site, creating a link between the workshop and the catering kitchen.
"
The 4 season of the Greenhouse
The greenhouse plays an important role during the year
During the winter, its becomes 

an orangery , allowing citrus and other plants susceptible to the frost to be protected.

In the spring it houses the vegetables and aromatics seeds sown for the season.
During the summer , it houses the produce of  local market gardener
In the autumn , it is conductive to the sale of seasonal vegetables et marks the beginning of seeding for the following spring.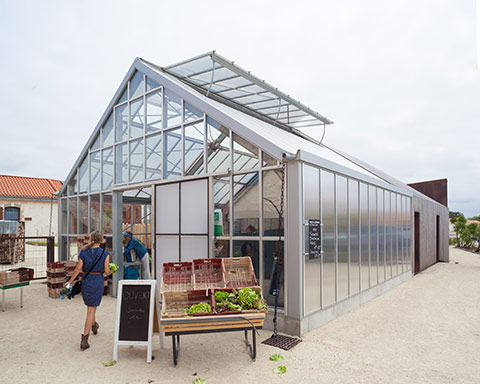 Organic vegetables grown in a gardener's greenhouse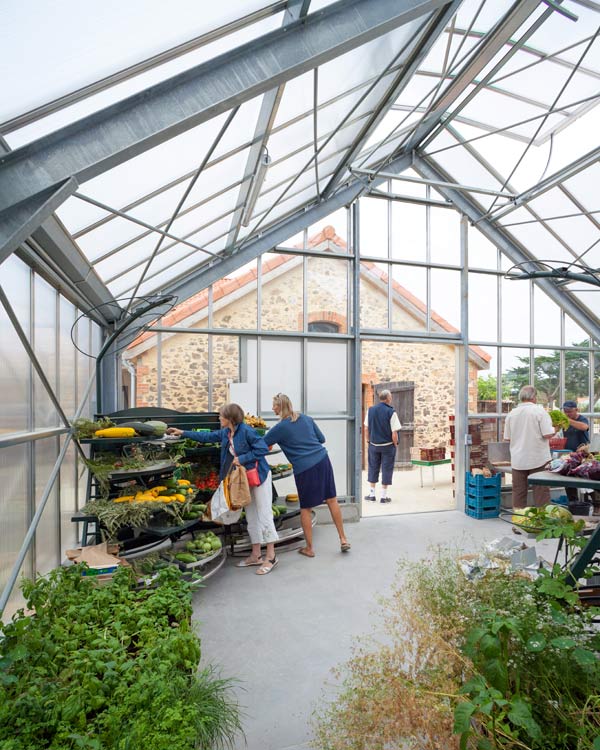 Laurent Logeais and his companion Pétra,market gardeners at Brem sur mer, obtained the  AB (organic) label  in 2009. In April 2015, they agreed to be the official suppliers of organic vegetables for the Farm Marais Girard.
From the summer of 2015, they sell their organic seasonal vegetables in the greenhouse:  tomatoes, cucumbers, aubergines , … but also herbs and strawberries – the  strawberries which Marylou uses for her  desserts: sauces, mousses and pies …
Fruit and vegetable on  sale
Summer timetable from 1st July to 4th Sept:
Tuesdays- Thursdays-Saturdays- Sundays from 10h to 12h
Winter timetable:
Friday from 17h to 19h
Saturday from 10h to 12h
New for  2016 : the organic vegetable garden
In the  spring, Laurent will develop a plot of 1000m2 on an educational vegetable garden. Marylou will of course, collect and use the fresh vegetables to prepare her delicious dishes!
The greenhouse was designed by the Vendeen company " Marchegay". They develop different ranges of produces for  agronomy research,garden centers and botanical gardens.
The Marais Girard greenhouse  has optimized ventilation thanks to its hinging systems situated on the gutters which allows the entire roof is be opened:
The structure remains impervious to weather
The temperature inside is better controlled
The ventilation is natural
The structure remains impervious to the weather